2020 "let's begin! Zoom experience society (all twice) held report
Intellect profits! Wazaari course
Last update date January 26, 2021
[the date and time]
The first participant edition Monday, November 16, 2020 venue participation 9: 30 - 12:00/online participation 10:00-12:00
The second sponsor edition Thursday, November 19, 2020 venue participation 9: 30 - 12:00/online participation 10:00-12:00
[venue]
Izumi Ward the fourth floor of the government office 4AB meeting room (Izumi, Izumi-ku center north 5-1-1)
Or,
Participation online from home and the workplace

Tomohiro Usui
[lecturer]
Authorized NPO corporation citizen sector Yokohama Tomohiro Usui he
[the number of participants]
The first 21 sets 23
The second 21 sets 24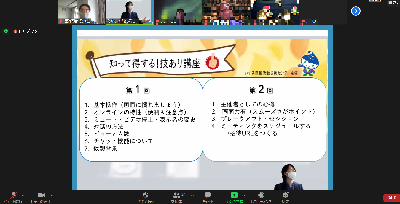 Photograph of Zoom
The first participant edition
At first, we could talk while seeing face on screen even if each was in remote place when we used basic operation and Zoom and learned online characteristic that there was using Zoom.
In addition, we learned point when we took communication in manner and online meeting when we used Zoom.
It learned setting method of change of the name and virtual background, and it became homework to change background on the next time.

Photograph of venue
The second sponsor edition
We learned method to become host (sponsor) this time.
We actually operated method of difference for free copy, pay and screen joint ownership. We learned preparations being important, problem of security, point when we invited to host.
People who did not cope such as PCs were not able to change background that was homework, but many people changed, and screen was more gorgeous than the last time. From background, we could know individuality or hobby of the person, and sense of closeness was heated.
Main voice of student attending a lecture
Point that served as a reference in course
As we used own actual machine, it was plain.
As we knew the way of basic operation of Zoom, it was good.
Having been able to chat.
This was the first time to have touched Zoom, but, as invited side, thought that it was usable somehow. We think that it was good to know the basic basics.
It was nonapproachable, but feels like seeming to be usable without knowing how to use really.
We used LINE as tool of online meeting, but choices increase when Zoom comes to be usable. We right thought to be course that matched in the times.
Management of update, today's contents were good as reconfirmation of knowledge that they learned by watching and learning from other people somehow.
Way of joint ownership of screen, the details of operation method
Installation method of software of Zoom, usage, how to use free copy Zoom, method of login were useful.
We were taught that we were careful when we hosted Zoom and participated concretely and served as a reference very much.
What is Zoom? It was revealed that it was possible online, to hold a meeting myself and was glad of what we understood when we were assigned to this.
We served as a reference in practical course very much.
We actually understood how you held remote meeting if you did.
We thought that we could do something about Zoom meeting.
From inhabitant of a ward activity support center
 Though "we hear Zoom well, student attending a lectures will be what" with opportunity that was going to attend this course Which "I should do what to go online in future" varied which "we cannot gather by corona evil".
Similarly, by questionnaire, which wanted to host 94%, Zoom which we would want to see in future using Zoom was able to be going to use Zoom to many people with 94% again.
As online meeting is one method of people and communication tool making a person's connection in "with corona", we use by circle activity and local action using ICT services such as right or wrong Zoom and want you to tie communication.
 In Izumi inhabitant of a ward activity support center, we will work in future through course and person fortune bank to support "person fortune" of local action and Izumi Ward. We look forward to much participation, inquiries.
Additional holding was decided because of favorable reception!
"We will begin! Zoom experience society (all twice) [additional holding] homepage is this place
Izumi inhabitant of a ward activity support center (Izumi Ward the first floor of the government office 104 window)
Phone number 045-800-2393 fax: 045-800-2518
E-Mail address [email protected]
Inquiry to this page
Izumi Ward General Affairs Department Regional Promotion Division
Telephone: 045-800-2391
Telephone: 045-800-2391
Fax: 045-800-2507
E-Mail address [email protected]