News to the fire prevention object person concerned
Last update date May 27, 2019
Because thing was placed near stairs and passage in building, fire prevention door, as for a lot of of fire that damage that occurred in the past is heavy, a lot of holy life and valuable property are lost "spread of fire expansion of fire" by "inflow to the room of flame and toxic smoke without "being able to go without fire prevention door closing" failing to get out in time".
Fire is very terrible.
We take holy life, precious property instantly.
Not to make any regret "that has become irreparable." after fire occurred, everyone, of the person concerned of building, we ask you to manage appropriately without usually putting thing near stairs and passage, fire prevention door.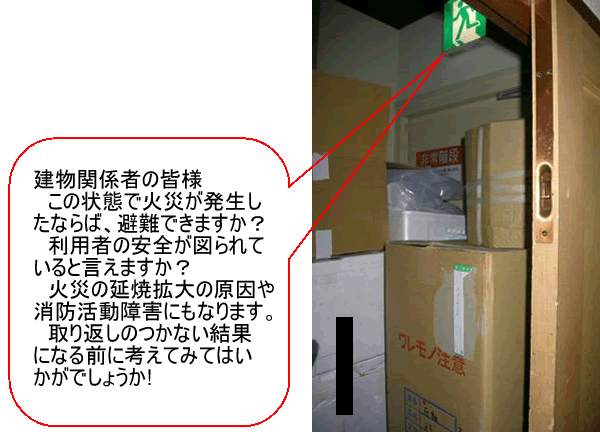 Evacuation mouth which is in condition to be placed, and not to be able to use baggage
Inquiry to this page
The Fire Bureau prevention department Facility Planning Division
Telephone: 045-334-6408
Telephone: 045-334-6408
Fax: 045-334-6610
E-Mail address [email protected]