We carried out graffiti * shio of anti-crime program patrol and Keikyu underpass steel sheet in the first yellow, Hinodecho district!
Last update date August 28, 2019
1 date and time
 Saturday, July 27, 2019 15:00-16:30
2 anti-crime program patrol routes
 Koganecho "Koban" (police box) - Koganecho Station - Hinodecho Station - Site-D assembly room
Delete 3 graffitis; conduct point
 Keikyu underpass steel sheet
①Koganecho side (from golden studio from ),② Hinodecho side (kaidan open space between Site-A Tinys)
4 contents
 In addition, by the first yellow, Hinodecho environment purification promotion meeting sponsorship, we performed graffiti * shio of Keikyu underpass steel sheet for anti-crime program patrol that we carried out on 27th every month.

30 or more gathered before Koganecho "Koban" (police box).

It is story of the peace and order aggravation by garbage and graffiti from Chairperson Ito

The situation of graffiti of steel sheet

We fall quickly by using solvent for exclusive use of graffiti.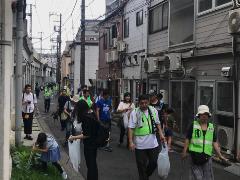 We did garbage picking by anti-crime program patrol.
Inquiry to this page
Naka Ward Ward Administration Promotion Division
Telephone: 045-224-8128
Telephone: 045-224-8128
Fax: 045-224-8214
E-Mail address [email protected]