About various vote relations
Last update date August 5, 2019
When we go to polling place
Receptionist smoothens when you have "information that ward board of elections issues for vote".
"Information for vote" ships with sealed letter for each one piece of household per person.
Take your "guide of vote".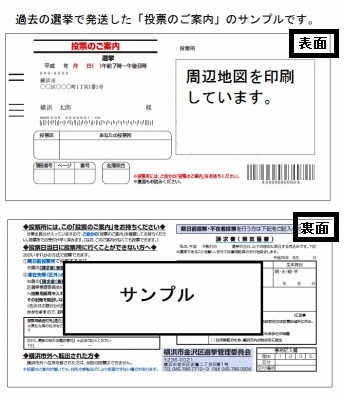 ---
※We can vote without "information for vote".
In addition, there is not need to have identification cards.
On the day, with early vote, possibility that cannot go to polling place on election day in work or leisure is system that mails, and can vote for ballot box like vote on that day before vote directly.
As you ship "information for vote" in the case of election, take if it arrives. (we can vote without "information for vote".)
<person who can do early vote>
When there are work and school on election day
When we go out on election day including leisure and trip
When, for disease, childbirth, physical obstacle, it is difficult to walk
About early vote place setting place or poll hour, please confirm from this.
(about vote place or poll hour, we will publish only at the time of election.)
Absentee vote is possible in the following case.
On the day polling place which can vote is decided by living Address.
We cannot vote any place other than the appointed polling place on that day.
In addition, please use public transport to each polling place if possible.
About place of local polling place to live on that day, please confirm from this.
(about vote places, we will publish only at the time of election.)
Inquiry to this page
Sakae Ward General Affairs Department General Affairs Division
Telephone: 045-894-8311
Telephone: 045-894-8311
Fax: 045-895-2260
E-Mail address [email protected]