Garden Brossam Azamino
Final update date July 15, 2020

[Location]
1-32-6, Azamino, Aoba-ku, Yokohama-shi
[Access]
9 minutes walk from Azamino Station on the Tokyu Denentoshi Line
9-minute walk from Azamino Station, Yokohama Subway Blue Line
Type of certification and timing of certification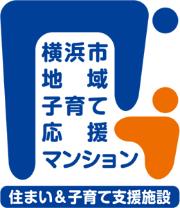 Housing & Child Care Support Facility
Plan certification: February 6, 2009
Certification: July 16, 2009
Types of local child care support facilities

Kozakuraaikoen
Required items

| | | |
| --- | --- | --- |
| Residential area | More than three-quarters of dwelling units of 55 square meters or more | Conformity |
| barrier-free | Sites, corridors in common areas, no steps in each dwelling unit, installation of elevators | Conformity |
| Sound shielding | Floor slab thickness of 200mm or more | Conformity |
Recommended items

| | | |
| --- | --- | --- |
| Structural structure of buildings, etc. | Special consideration is given to sound insulation on the upper and lower floors. | nonconformity |
| Structural structure of buildings, etc. | Common facilities such as meeting places and kids rooms | nonconformity |
| Building layout plans, etc. | There is a square where children can play on the premises. | nonconformity |
| Building layout plans, etc. | The site is green. | Conformity |
| Building layout plans, etc. | The road around you can walk safely | Conformity |
| Plans and facilities | The fittings are hard to pinch fingers. | nonconformity |
| Plans and facilities | Sink is installed in the balcony. | Partial conformity |
| Plans and facilities | The entrance is wide, benches can be set up, and there is space for strollers. | nonconformity |
| Plans and facilities | You can devise planning, such as being able to partition according to your child's growth. | nonconformity |
| Plans and facilities | There are many spaces for closet, storeroom, and other storage. | nonconformity |
| Consideration for anti-crime program Consideration | anti-crime program measures are applied to windows. | Conformity |
| Consideration for anti-crime program Consideration | A third party cannot easily enter the common area. | Conformity |
| Consideration for anti-crime program Consideration | I have a good watch. | Conformity |
Recommended item checklist (PDF: 201KB)
Child care support message from company
In order to prevent falls, we have taken measures to prevent injuries and accidents, such as installing sash crescents at a height that is difficult for children to reach, sashes to prevent finger scissors, and security camera is.
In addition, a universal design has been adopted, such as installing a switch lower than usual and keeping it high for even small children to reach.
Consider family communication, such as an open kitchen overlooking the living room and a bath where parents and children can relax.
There are many green parks nearby, and educational and medical facilities are within a 10-minute walk, providing an easy-to-live environment.
Io Planet Co., Ltd.
※Please be careful
"Child care support message from company" publishes comment by authorized company for the purpose of reporting about authorized apartment, but Yokohama-shi guarantees completeness, accuracy, usefulness of contents Not a thing.
Adobe Acrobat Reader DC (formerly Adobe Reader) is required to open PDF files.
If you do not have it, you can download it free of charge from Adobe.


To download Adobe Acrobat Reader DC
Inquiries to this page
Housing Policy Division, Housing Bureau
Telephone: 045-671-4121
Telephone: 045-671-4121
Fax: 045-641-2756
Email address: [email protected]