Konan sunflower leading
Last update date September 28, 2020
Primarily it was produced in 1985 by Konan inhabitant of a ward festival executive committee what it was easy to sing and was easy to dance again that "Konan sunflower leading" raised awareness of oldness and Konan and widened ring of contact.
Video offer that "beat" & which "danced"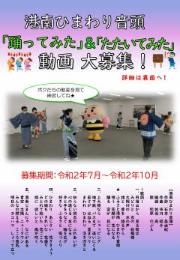 Many festivals have been called off under the influence of new coronavirus infectious disease this summer.
Meanwhile, we want you to taste festive mood even a little! We want to watch dance and drum of everybody! We think of this, and Konan Ward government office recruits "video which danced" of summer classic "Konan sunflower leading" of ward and "videos which they swatted by the sum drum".
---
→As for the video which had you apply, actually please see the following link
Please download flyer which you wish to download from the following.
◆Konan sunflower leading video offer flyer ◆(PDF: 741KB)
Konan Ward residence, group/individual where attendance at school, working is more important which can do performance by securing of mask wearing, social distance (at least 1m)
1.Sound source downloading
 Please have downloading (music file (MP3): 4,474KB) of sound source from website of ward.
 Even Regional Promotion Division on the fifth floor of the ward office rents CD.
2.Video shooting
 Please go by principle, each person.
 ※When you photograph at public place, please consider rule manner.
3.Publication method
 You have you put "# Konan sunflower leading" when there is SNS account (YouTube,Twitter,facebook,Instagram either) of each group and post, and please report "group name (the name), video URL, the person in charge full name, contact information" to the following contact information.
 We introduce thing which we were able to confirm in Regional Promotion Division on website of ward.
 When there is not account, please submit finished product (DVD) of data.
 ※Please refer for person having any questions to the following contact information.※
From July, 2020 to October, 2020
Outing of 83 (the bee sun) Taro
We want to dance with 83 Taro who appears in "dance person video" of ward! Please consult about person called this.
(contact information: Konan Ward government office Regional Promotion Division youth development charge 045-847-8396)
・About picture which person can identify, please apply after applicant got consent of the person. (in the case of child, please obtain protector's consent)
・About video which had you report, we may publish a part of the image in website of ward. Thank you for your understanding.
※When you enlarge video and see, please push logo of YouTube in the lower right of video. We cannot increase in extended mark of the lower right.
[Konan sunflower leading dance person video]

Video introduction that "beat" & which "danced"
We introduce video which gathered with video which "beat" & which "danced" Konan sunflower leading raising in from July, 2020 to October.
Everybody who had you apply, thank you.
Everybody of Shimonagaya baton club "smile Angels"
We have performance using baton in the latter half, too♪

Everybody of the Noba housing complex fourth Residents' Association "meeting of bloom"
We danced by face shield wearing under the blue sky ♪ 83 Taro is same, too.

Everybody of ball interest Neighborhood Associations "ball interest child society drum club"
We swatted with the sum drum!

Lyrics, score, dance flyer
We can download paper which wrote score, dance as the lyrics from the following.
Konan sunflower leading lyrics, score, dance commentary (PDF: 1,018KB)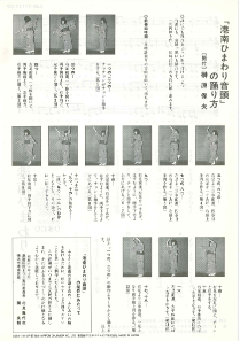 [Konan sunflower leading]
Versification Miyuki Ishimoto/composition Shosuke Ichikawa/arrangement Makoto Saeki
Song Nobue Matsubara
... lyrics ...
One. Town to look at from Mt. Japanese yen sea (manipulation not to get)
   Aya design (color design) of green and light
   Voice of water of great Okagawa (Okagawa)
   Whom do you talk about the old days with?
   ★Oldness and Konan sunflower leading
   Smile to sing becomes flower
   Dancing figure becomes flower
Two. We shop Kamiooka (we chew and put)
   We come to meet to subway bus
   Summer festival that youth jumps
   Turn around; with sunflower floating float
   ★Repetition
Three. Contact of comrade not to know
   We become friends that heart goes
   We widen ring to join hands with hand
   Favorite oldness and town planning
   ★Repetition
Four. Sunflower hydrangea flower today
   The full bloom (hanazakari) when all daughters (we come) are beautiful
   The love time that we could nurse and had
   If I want, wind blows to wife
   ★Repetition
Five. What is there if Konan pride is similar?
   Blue sky sun new subdivision
   Heart spirit that everybody burns with
   We will represent Yokohama of (tomorrow) tomorrow
   ★Repetition
Adobe Acrobat Reader DC (old Adobe Reader) is necessary to open file of Portable Document Format.
Person who does not have can download free of charge from Adobe company.


To downloading of Adobe Acrobat Reader DC
Inquiry to this page
Konan Ward General Affairs Department Regional Promotion Division
Telephone: 045-847-8391
Telephone: 045-847-8391
Fax: 045-842-8193
E-Mail address [email protected]