The second (2015) green leaves inhabitant of a ward marathon event
Last update date March 26, 2020
We held the second green leaves inhabitant of a ward marathon event!
We held "the second green leaves inhabitant of a ward marathon event" on schedule on Sunday, November 29, 2015.
Thank you, volunteer participants who had you engage in the roadside guard, everyone!
You can see meeting results (only as for the person from high rank) from (the outside site) (external link of Yokohama-shi homepage).
In addition, on the day we gathered up the number of photograph and the entry people who photographed in "conduct report" (PDF: 1,025KB) about state of meeting.
About traffic regulation by meeting holding, you caused many of you trouble, but thank you very much for cooperating.
Message from Director General is this (the outside site).
As for the meeting poster, please see this (PDF: 1,150KB).
---
"Announcement of traffic regulation" flyers are as follows. ※We click image and can download. (PDF1326)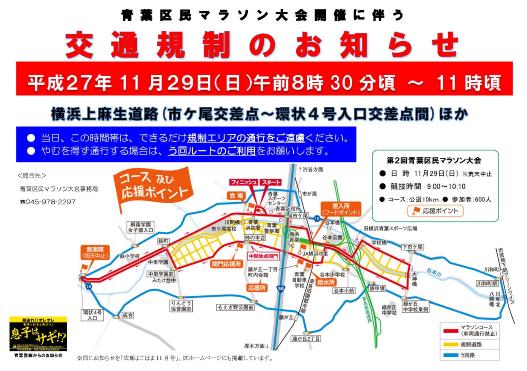 (PDF: 1,325KB)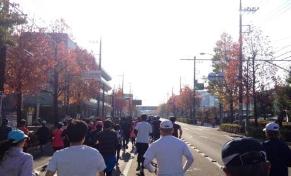 [on the date] Sunday, November 29, 2015 9:00 a.m. start
[event] 10 kilometers ※There is more barrier (than start 35 minutes) than start in 5 kilos point.
[capacity] 600 people
[participation qualification] Person who was born in before April 1, 1997 (Heisei 9), and can run 10 kilometers in less than 70 minutes
[entrance fee] 4,000 yen (we pay in credit card, convenience store, ATM)
[application method] We apply from RUNNET (the Internet, portable site). First-come-first-served basis.
Please from this (the outside site).
Primary offer (person of Aoba Ward residence, working, attendance at school): Friday, July 31 0:00 - Tuesday, August 11
The second offer (the public): From Tuesday, August 18 to Monday, August 31
※When it reaches capacity by primary offer, we do not perform the second offer.
[commendation] Person of male general 1-3 rank and female general 1-3 rank confers testimonial. In addition, we issue identification of record to all the finishers.
※It is presented "Yokohama marathon start right" (entrance fee payment) by classman!
Flyer (held essential point)
Flyer (held essential point) this (PDF: 391KB)
Adobe Acrobat Reader DC (old Adobe Reader) is necessary to open file of Portable Document Format.
Person who does not have can download free of charge from Adobe company.


To downloading of Adobe Acrobat Reader DC
Inquiry to this page
Aoba Ward General Affairs Department Regional Promotion Division
Telephone: 045-978-2291
Telephone: 045-978-2291
Fax: 045-978-2413
E-Mail address [email protected]