Green leaves sports plaza
Last update date March 27, 2019
It is facility which ward and inhabitant of a ward maintained by collaboration in commemoration of the constituency system 20th anniversary that "green leaves sports plaza" effectively utilizes the school planned site and secures place of sports activity of inhabitant of a ward.
We establish rule of the use to be able to use comfortably each other. I would like understanding and cooperation.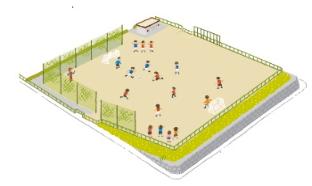 The location of green leaves sports plaza
As for 2-16-1, Edanishi, Aoba-ku way, please see guide map (PDF: 72KB).
(area: 11,723 square meters)
---
Information for use of green leaves sports plaza
Including "usage guidance" (the outside site) and "day (the outside site) not to be able to use facility" please see page of association of Yokohama citizen facility in detail.
Green leaves sports plaza management window
※On fourth Monday (weekdays in the case of holiday just after that), it is closed for New Year holidays (from December 28 to January 4)
Telephone, FAX 507-7511
Adobe Acrobat Reader DC (old Adobe Reader) is necessary to open file of Portable Document Format.
Person who does not have can download free of charge from Adobe company.


To downloading of Adobe Acrobat Reader DC
Inquiry to this page
Aoba Ward General Affairs Department Regional Promotion Division
Telephone: 045-978-2291
Telephone: 045-978-2291
Fax: 045-978-2413
E-Mail address [email protected]