Bright election promotion meeting
Last update date August 13, 2019
Bright election promotion meeting?
It is independence group working on for "improvement of turnout" and "realization of beautiful election without injustice".
What kind of activity do you carry out?
At the time of election, we perform street enlightenment to call for vote participation while distributing enlightenment article.
In addition, we usually develop enlightenment activity to consult with about improvement of vote participation awareness through various opportunities including inhabitant of a ward festival.
 Activity of election promotion meeting that Tsurumi Ward is well acquainted with
Election mascot "ikotto" of Yokohama-shi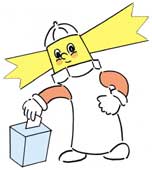 His name that appears in many places in the city when election approaches, and calls for vote is ikotto.
ikotto which was born in 1988 (Showa 63) images lighthouse lighting up tomorrow of Yokohama-shi brightly.
The name is decided from about 2,000 points of sent plans by citizen. We come from "line kotto" for election literally.
---
Rental of election device
It is ... to the ... primary, junior high and high schools staff of a school
In election promotion meeting that Tsurumi Ward is well acquainted with, we loan all year flag flag, cord, armband, badge to use for election campaign including ballot box, mention stand. We can have students have an experience near real election by using such a vote device.
You are interested in election while you have an experience near genuine article and face seriously, and, as good opportunity to learn importance, significance of election, please use vote device rental by all means.
For more details, to General Affairs Division Statistics and Elections Section, please refer.
Mention stand
Ballot box
Cord
Armband for campaigner
Armband for board of elections
White rose badge
Upbound flag
Flagpole
Please see Yokohama-shi board of elections homepage about bright election in detail.
Adobe Acrobat Reader DC (old Adobe Reader) is necessary to open file of Portable Document Format.
Person who does not have can download free of charge from Adobe company.


To downloading of Adobe Acrobat Reader DC
Inquiry to this page
Tsurumi Ward General Affairs Department General Affairs Division
Telephone: 045-510-1653
Telephone: 045-510-1653
Fax: 045-510-1889
E-Mail address [email protected]