Konan engineering works office guidance
Last update date March 11, 2019
Information for Konan engineering works office
There is no Konan engineering works office in Konan Ward government office (Konan Ward synthesis government building).
The location is as follows
The location: 〒 233-0013 1-9-10, Maruyamadai, Kounan-ku (guide map)
Telephone: 045-843-3711 FAX: 045-845-6489
Hours: From 8:45 to 17:00
(except Saturday, Sundays and holidays, New Year holidays)
We carry out reading such as figures of figure of border investigation, road account book (reading system) or authorization grant in the time (from noon to 1:00 p.m.) for the lunch break.
But please note that you may have to wait until duties start time of the afternoon at the time of grant including authorization when instruction, instructions from the person in charge are necessary. In addition, we call for 24 hours and accept thing about repair to be urgent regardless of the above.
Main work of engineering works office
Thing about maintenance of road
Thing about river and public sewage trachea kyono new establishment, improvement, maintenance
Thing about maintenance of park
Thing about meets and bounds with road, waterway, park and people place
Thing about disaster prevention activity about road and river in heavy rain or earthquake
Please consult about contact at such time
There is hole in road. Tile of the sidewalk wobbles.
Direction of convex mirror is strange.
We want to know the use of public bicycle place around the station. (the outside site)(we link to page of Yokohama Sa'iqa parking.)
Bicycle and motorcycle, car are left.
Baggage falls into road from car and is dangerous.
We want you to maintain private road. We want you to support maintenance.
It is awkward that U-shaped groove is clogged up rainwater overflow (afu) resode.
We want you to put remaining soil of U-shaped sulcular cleaning in order.
We want to know border with road, waterway.
We want you to do the pruning (the pruning) of roadside tree and tree of park.
It is awkward rainwater at the time of heavy rain overflow (afu) retekurunode in site from road.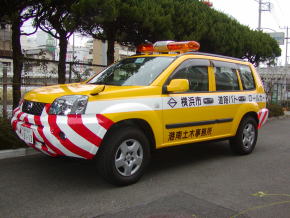 We go around town in police car every day and, in Konan engineering works office, check. This is to observe whether road installations such as state of road surface of road or U-shaped groove, guardrail do not have problem.
In addition, we perform smooth management to contact office by radio in emergency, and to perform emergency measure and repair, and to follow security of town.
---
There is no Konan engineering works office in Konan Ward government office (Konan Ward synthesis government building).
The location is as follows.
The location: 〒 233-0013 1-9-10, Maruyamadai, Kounan-ku (guide map)
Telephone: 045-843-3711 FAX: 045-845-6489
Inquiry to this page
Kounan, Kounan-ku engineering works office
Telephone: 045-843-3711
Telephone: 045-843-3711
Fax: 045-845-6489
E-Mail address [email protected]