Sakae engineering works office street light and crime prevention light
Last update date October 10, 2018
Road lighting facility (street light)
Mercury lamp, management are engineering works offices mainly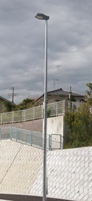 ---
We maintain road lighting facility (street light) in point where road, intersection with many highway and traffic, traffic accident including corner are more likely to occur to prevent traffic accident in the night.
We check the lighting situation by monthly night patrol and periodical patrol to perform good management of street light in engineering works office.
Please connect with Sakae engineering works office (045-895-1411) if you find disappearing thing and thing that brightness weakens. Please let know management number (real photograph) (image: 4KB) in seal attaching on the nearby Address or landmark and road side on this occasion.
It is different from crime prevention light installed in telephone poles for anti-crime program.
Fluorescent lamp, management are Neighborhood Associations, Neighborhood Association mainly
---
When crime prevention light does not turn on, please contact toward Neighborhood Association, the officer of Neighborhood Associations. In Neighborhood Association Neighborhood Associations, please refrain from telephone pole numbers on this occasion because you often manage crime prevention light with telephone pole number.
There is plate on telephone pole, and local name and number to three digits are filled in on plate. This is telephone pole number
Inquiry to this page
Sakae Ward Sakae engineering works office
Telephone: 045-895-1411
Telephone: 045-895-1411
Fax: 045-895-1421
E-Mail address [email protected]>