Hamana-chan
PR character (for children) of agricultural and livestock products produced in the city
Final update date February 3, 2020
"Hamana-chan" changes to a city-produced agricultural and livestock product PR character for children!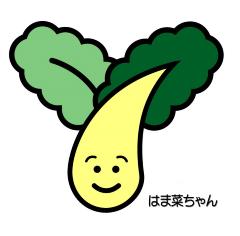 Hamana-chan logo
We change "Hamana-chan" which was symbol mark of brand farm products of Yokohama-shi to city-produced agricultural and livestock product PR character for children. When using "Hamana-chan" newly with change of handling, application of use permission is necessary.
In addition, PR materials, etc. have already been added. ※If you use "Hamana-chan", you can continue to use it, but please submit a report to understand the usage status. (* PR materials are bags for vegetables, binding tapes, cardboard, etc.)
[Purpose of Use]
①Those that contribute to food education and school lunches
②Dissemination and enlightenment of agricultural and livestock products produced in the city
③Promotion of use in school lunches
④Others approved by the mayor
[Target persons]
①Institutions such as nursery schools, kindergartens and elementary schools
②Ward offices in Yokohama
③Person who contributes to local production for local consumption
④Others deemed appropriate by the mayor
In addition, Yokohama-shi is pushing forward unified PR by "Yokohama farm", and please utilize logo mark of "Yokohama farm" when you publicize city-produced agricultural and livestock products for purposes other than the above.
Procedure
Submission destination
Submission deadline

New use
[Application for permission]

Yokohama-shi agriculture promotion section
TEL: 045-671-2637/FAX: 045-664-4425

Accepted at any time

When using the version already created
[Notification]

[Tsurumi / Kanagawa / Hodogaya / Asahi / Kohoku / Midori / Aoba / Tsuzuki]
Northern Agricultural Administration Office (4th floor of Tsuzuki Ward General Government Building)
TEL: 045-948-2480/FAX: 045-948-24888
[Middle / South / Konan / Isoko / Kanazawa / Tozuka / Sakae / Izumi / Seya]
Southern Agricultural Administration Office (8th floor of Totsuka Ward 8F)
TEL: 045-8686-8493/FAX: 045-862-4351

Until Thursday, March 19, 2020※
※The above submission deadline is a guide for submission, but documents will be accepted even after this date.
In order to understand the usage status of "Hamana-chan", please cooperate with the submission of the above [Notification] even if you are already using "Hamana-chan" for binding tapes, bags, cardboard materials, etc.

Inquiries to this page
Environmental Planning Bureau Agricultural Administration Department Agriculture Promotion
Telephone: 045-671-2637
Telephone: 045-671-2637
Fax: 045-664-4425
Email address: [email protected]