Introduction of past magazine sponsor
Last update date April 2, 2020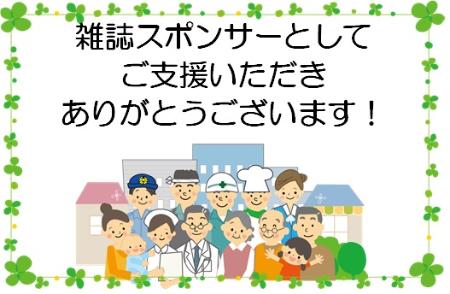 Yokohama City Library recruits sponsors donating magazine and newspaper.
In this page, we introduce company, groups which had you donate magazine to Yokohama City Library as magazine sponsor from offer start of 2014 by 2019.
For information about library enhancement, I would like cooperation in magazine sponsor system in future.
◎Link to page about recruitment of magazine sponsors
 Yokohama City Library recruits "magazine sponsors"!
◎Link to page of introductions such as magazine sponsor companies this year
 Introductions such as magazine sponsor companies
---
Table of 2019 magazine sponsors
Sponsor name
Conduct library
Target magazine (title)
Period
LUKE project
Tsuzuki library
Mart
From April, 2019 to March, 2020
Kanazawabunko shogi salon
Kanazawa library
The shogi world
From April, 2019 to March, 2020
Koe environment tree planting
Sakae library
Gardening of NHK hobby
From April, 2019 to March, 2020
SONY life insurance
Shinjuku life planner center tenth branch office
Midori Library
Egg club
From April, 2019 to March, 2020

Association of Yokohama-shi credit guarantee

Tsuzuki library
Tozuka library

Weekly diamond
From September, 2018 to August, 2021
String mountain
Naka Library
Tokyo Shimbun
From May, 2019 to April, 2022
Laboratory party Ishikawa-machi, Shinyamashita classroom
Naka Library
Yomiuri KODOMO newspaper
From June, 2019 to May, 2020
Nikkei metropolitan area print
Minami Library
Nikkei WOMAN
From June, 2019 to May, 2020
Isogo library
Kanazawa library
Seya library
Asahi library
Nikkei PC21
Tsuzuki library
Nikkei health
Tozuka library
Yokohama brass Meister
Tsuzuki library
Friend of music
From August, 2019 to October, 2019
Isogo library
Friendly English academy
Chuo-toshokan
Studying abroad journal
From October, 2019 to March, 2020
Table of 2018 magazine sponsors
Sponsor name
Conduct library
Target magazine (title)
Period
LUKE project
Tsuzuki library
& Premium
Mart
From April, 2018 to March, 2019
Kanazawabunko shogi salon
Kanazawa library
The shogi world
From April, 2018 to March, 2019
Koe environment tree planting
Sakae library
Gardening of NHK hobby
From April, 2017 to March, 2019
SONY life insurance
Shinjuku life planner center tenth branch office
Midori Library
Egg club
From April, 2018 to March, 2019
i*hojin*jikai
Asakawa Obstetrics and gynaecology Clinic
Tsurumi library
Nikkei WOMAN
From December, 2017 to March, 2019
Egg club
From April, 2018 to March, 2019
Kanagawa library

anan
Health

Kohoku library
Married woman
TOSHIBA Corporation Yokohama office
Isogo library
VERY
From July, 2018 to August, 2018
Association of Yokohama-shi credit guarantee

Tsuzuki library
Tozuka library

Weekly diamond
From September, 2018 to August, 2021
Table of 2017 magazine sponsors
Sponsor name
Conduct library
Target magazine (title)
Period
LUKE project
Tsuzuki library
& Premium
VERY
From April, 2017 to March, 2018
Kanazawabunko shogi salon
Kanazawa library
The shogi world
From April, 2017 to March, 2018
Koe environment tree planting
Sakae library
Gardening of NHK hobby
From April, 2017 to March, 2018
SONY life insurance
Shinjuku life planner center tenth branch office
Midori Library
Egg club
From June, 2017 to March, 2018
i*hojin*jikai
Asakawa Obstetrics and gynaecology Clinic
Tsurumi library
Nikkei WOMAN
From December, 2017 to November, 2018
The Yokohama West Exit branch in business and industry
Tsurumi library
Nikkei WOMAN
From November, 2016 to October, 2017
Kanagawa library
Diamond ZAi
Health (friend info information company of housewife)
From November, 2016 to October, 2017
Hodogaya library
YOKOHAMA Walker
Home pictorial
From November, 2016 to October, 2017
Kanazawa library
Gardening yasaino time for NHK hobby
Daily publication industry newspaper
Nikkei WOMAN
Nikkei health
Weekly economist
From November, 2016 to October, 2017
Midori Library
nojuru
From November, 2016 to October, 2017
Tsuzuki library
eclat
MADURO
MART
VOLLEYBALL
Nikkei WOMAN
OFF of Nikkei adult
Nikkei health
Nikkei Business
From November, 2016 to October, 2017
Sakae library
YOKOHAMA Walker
Nikkei health
Nikkei money
Weekly economist
From November, 2016 to October, 2017
Seya library
Nikkei PC21
From November, 2016 to October, 2017
Chuo-toshokan (the first floor)
JJ
MORE
Ski journal
Tennis Magazine
VERY
Book of rural living
From November, 2016 to October, 2017
Chuo-toshokan (the third floor)
YOKOHAMA Walker
From November, 2016 to October, 2017
Chuo-toshokan (the fourth floor)
Health of NHK today
Gardening of NHK hobby
New building house feature
From November, 2016 to October, 2017
Chuo-toshokan (the fifth floor)
NHK tanka
NHK haiku
Stereo
One piece of picture
Nikkei entertainment!
From November, 2016 to October, 2017
Table of 2016 magazine sponsors
Sponsor name
Conduct library
Target magazine (title)
Period
hinumakompyutainku
Tsuzuki library
Nikkei Woman
From April, 2016 to November
Kanazawabunko shogi salon
Kanazawa library
The shogi world
From August, 2016 to March, 2017
Net pal
Konan library
Railroad journal
From April, 2016 to June
Sakae library
Dishes of NHK today
Health of NHK today
From April, 2016 to June
Sea Horse financial service
Sakae library
Nikkei money
Yokohama Walker
From April, 2016 to September
Koe environment tree planting
Sakae library
Gardening of NHK hobby
From April, 2016 to March, 2017
The Yokohama West Exit branch in business and industry
Tsurumi library
Nikkei WOMAN
From November, 2016 to October, 2017
Kanagawa library
Diamond ZAi
Health (friend info information company of housewife)
From November, 2016 to October, 2017
Hodogaya library
YOKOHAMA Walker
Home pictorial
From November, 2016 to October, 2017
Kanazawa library
Gardening yasaino time for NHK hobby
Daily publication industry newspaper
Nikkei WOMAN
Nikkei health
Weekly economist
From November, 2016 to October, 2017
Midori Library
nojuru
From November, 2016 to October, 2017
Tsuzuki library
eclat
MADURO
MART
VOLLEYBALL
Nikkei WOMAN
OFF of Nikkei adult
Nikkei health
Nikkei Business
From November, 2016 to October, 2017
Sakae library
YOKOHAMA Walker
Nikkei health
Nikkei money
Weekly economist
From November, 2016 to October, 2017
Seya library
Nikkei PC21
From November, 2016 to October, 2017
Chuo-toshokan (the first floor)
JJ
MORE
Ski journal
Tennis Magazine
VERY
Book of rural living
From November, 2016 to October, 2017
Chuo-toshokan (the third floor)
YOKOHAMA Walker
From November, 2016 to October, 2017
Chuo-toshokan (the fourth floor)
Health of NHK today
Gardening of NHK hobby
New building house feature
From November, 2016 to October, 2017
Chuo-toshokan (the fifth floor)
NHK tanka
NHK haiku
Stereo
One piece of picture
Nikkei entertainment!
From November, 2016 to October, 2017
Table of 2015 magazine sponsors
Sponsor name
Conduct library
Target magazine (title)
Period
hinumakompyutainku
Tsuzuki library
Nikkei Woman
From April, 2015 to March, 2015
Cook; horse Publishing
Chuo-toshokan
Brutus
From April, 2015 to June, 2015
Net pal
Konan library
Railroad journal
From July, 2015 to March, 2016
Sakae library
Dishes of NHK today
Health of NHK today
From July, 2015 to March, 2016
Sea Horse financial service
Sakae library
Nikkei money
Yokohama Walker
From April, 2015 to March, 2016
Koe environment tree planting
Sakae library
Gardening of NHK hobby
From April, 2015 to March, 2016
Table of 2014 magazine sponsors
Sponsor name
Conduct library
Target magazine (title)
Period
hinumakompyutainku
Tsuzuki library
Nikkei Woman
From December, 2014 to March, 2015
Cook; horse Publishing
Chuo-toshokan
Brutus
From July, 2014 to March, 2015
Mr. partner
Chuo-toshokan
Croissant
Nikkei Business Associe
From June, 2014 to March, 2015
Sea Horse financial service
Sakae library
Nikkei money
Yokohama Walker
From July, 2014 to March, 2015
Shonan intermediation center
Kanazawa library
Nikkei health
From April, 2014 to March, 2015
Shonan community
Kanazawa library
pichiremon
From May, 2014 to March, 2015
Inquiry to this page
Board of Education Secretariat Chuo-toshokan investigation Documentation Section
Telephone: 045-262-7336
Telephone: 045-262-7336
Fax: 045-262-0054
E-Mail address [email protected]