To make play park
Do children not make environment that can be idle freely with your hand?
Last update date January 10, 2019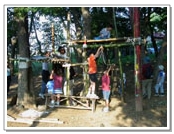 ---
1.We try to go to imminent play park
At first, we experience and will know play park more.
Without forgetting clothes or change of clothes which may become dirty!
2.Can you do it here that wants to try in this park?
Consultation that it wants to move into action in this imminent park or what kind of place there is in
Environmental Planning Bureau greenery maintenance section
Telephone: 045(671) 3950, 2650
FAX: 045(633) 9171
Or
In non profit organization Yokohama play park to wound rou network (YPC net).
(Collection of links)
We push forward the making of play park with contact adjustment, ward office with area.
3.At first, we try day-limited play park
We call out in area and it opens learning course and gathers volunteer friends.
It increases holding numbers at a pace that there was from four times a year once a week once a month in ... and oneself,
In play park where children can play anytime.
Play park held support of Environmental Planning Bureau
In Environmental Planning Bureau, we perform held support for play park group which met the following requirements.
Activity that purpose of play park "is idle by own responsibility freely" being developed.
It is activity to be carried out in some areas in park, and sponsor take responsibility in area
Taking out necessary insurance such as liability insurance
Perform the current situation restoration after the end
Individual and group, anyone approving of purpose being able to participate freely free
●We rent article for play park all day long.
Rope, drum, vinyl sheet, emergency set, saw, hammer.
●We establish facility necessary for warehouse, activity including bulletin board.
For play park group carrying out a periodical activity to some extent,
We perform setting support of facility necessary for warehouse, bulletin board, activity including washing space.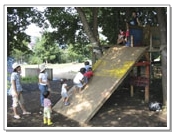 Inquiry to this page
Environmental Planning Bureau greenery part greenery maintenance section
Telephone: 045-671-2650
Telephone: 045-671-2650
Fax: 045-664-2588
E-Mail address [email protected]