Place (theme display) of encounter with book
Last update date October 8, 2019
In front of counter on the first floor, we establish display section.
About general book (product for adults), each children's book, we collect books from various genres along a certain theme.
We think that you can usually consider book of the field not to have in the hand very much "to seem to be interesting" on seeing cover.
Of course please enjoy slowly at home as you loan.
In addition, before the second-floor elevator, we install corner of "this one book readable now". Look at this by all means.
General book display "space"
Children's book display "help!"
Permanent construction display "this one book readable now"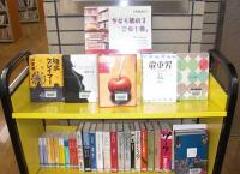 Before the second-floor elevator, we establish corner where we collected books which became bestseller and topic.
We can borrow book which failed to read and book worried about immediately now.
We pick up by all means at this opportunity, and please see.
---
As well as display of book, we perform various plan display.
It is Thursday, October 31 from "town development "safe community it prospers" of security, relief" Tuesday, October 1, 2019
"Let's know together! It is Friday, September 27 from suicide prevention, dementia, cancer screening, point Tuesday, September 3, 2019 of tuberculosis
"Sakae Ward child care support base nikorinkutoha" It is Thursday, August 29 from Tuesday, August 20, 2019
"Let's know environment of Yokohama!" It is Wednesday, July 31, 2019 from Monday, July 1, 2019
It is Friday, June 28, 2019 in "health more in June for food education month by meal" from Saturday, June 1, 2019
It is Wednesday, May 29, 2019 from "Yokohama-shi song to read, and to know" Monday, April 29, 2019
It is Sunday, March 17 from "history of Sakae Ward to read from soil" Wednesday, February 13, 2019
It is Sunday, November 18 from "... that ho asks for - saa Sakae Ward for walking promotion month in November" Friday, November 02, 2018
"It is Wednesday, October 31 from town development "safe community" of security, relief Monday, October 01, 2018
"Let's know together! It is Friday, September 28 from suicide prevention, dementia, cancer screening, point Wednesday, September 05, 2018 of tuberculosis
"Sakae Ward area child care support base nikorinkutoha" It is Monday, September 03 from Tuesday, August 21, 2018
It is Sunday, August 19 from "history of 90 when picture book hands down" Wednesday, August 01, 2018
"The stage is China! ... China is Monday, July 30 from novel of the stage, ... Wednesday, July 04, 2018 that they gathered
"More review in dietary habits in health by ... meal for food education month in June is so Friday, June 29 from ..." Friday, June 01, 2018
With "- bicycle and literature to cut wind, and to run is Thursday, May 31 from Yokohama - exhibition" Friday, May 11, 2018
 "Straw-rope patterned pottery and earthenware in the Yayoi Period you are Monday, February 12 from both group" Thursday, January 11, 2018
 "Let's know great writer strike Ray dogs collaboration plan great writer!" It is Monday, December 25 from Wednesday, November 29, 2017
 "November is Monday, November 27 from Wednesday, November 1, 2017 for Sakae Ward walking promotion month"
 "It is Tuesday, October 31 from town development "safe community" of security, relief Monday, October 2, 2017
 "Let's know together! It is Friday, September 29 from suicide prevention, cancer screening, point Friday, September 1, 2017 of tuberculosis
 "Sakae Ward area child care support base nikorinkutoha" It is Thursday, August 31 from Wednesday, August 16, 2017
 "Aim! Expert of the investigation!" It is Tuesday, August 15 from Tuesday, August 1, 2017
 "Do you know the Yokohama-shi Central Wholesale Market?" It is Monday, July 31 from Wednesday, July 19, 2017
 "Let's know environment of Yokohama!" It is Friday, July 14 from Saturday, July 1, 2017
 "More review in dietary habits in health by ... meal for food education month in June is so Monday, June 26 from ..." Thursday, June 1, 2017
---
 "It is Friday, February 24 from big city system "special self-government City" appropriate for Yokohama Monday, February 13, 2017
 It is Sunday, February 12 from "Mt. remains - seven koku cave grave group of our town and neighboring cave graves group" Wednesday, January 11, 2017
 It is Sunday, December 18 from "library de YES prevention of warming month tapestry" Tuesday, December 5, 2016
 It is Wednesday, November 30 from "walk rally which Sakae comes to like more" Tuesday, November 1, 2016
 It is Monday, October 31 from "town development "safe community" of security, relief" Saturday, October 1, 2016
 It is Tuesday, August 23 from "park protection society and play park" Wednesday, August 17, 2016
 It is Sunday, August 14 from "Meiji, Yokohama, saishoku**ten" Wednesday, July 20, 2017
 It is Monday, July 18 from and "intellect eats vegetables of local production for local consumption - hometown of Sakae Ward cheerful ninarou ..." Friday, July 1, 2016
 "Do the eating habits know member of improvement promotion (nickname health mate)?" It is Thursday, June 30 from Friday, June 17, 2016
 It is Monday, June 13 from "life of the earth, ... biological diversity display to tie, and to ask" for Wednesday, June 1, 2017
---
 It is Tuesday, June 30 from "ten where book cries" Saturday, June 6, 2015
 It is Monday, August 31 from and "we are born as girl now ... of ... world and Japanese girls" Saturday, August 1, 2015
 It is Wednesday, September 30 from "support go okokorotoinochi suicide prevention exhibition" Tuesday, September 1, 2015
 "It is Saturday, October 31 from town development "safe community" of security, relief Saturday, October 3, 2015
 "November is Thursday, November 12 from Monday, November 2, 2015 for Sakae Ward walking promotion month"
 With "the remains of remains - Kasama Chuo Park of our town is Sunday, December 13 from exhumation remains exhibition" Saturday, November 14, 2015
 It is Monday, December 28 from "this go Elementary School Class 3 of the third grade product ★ weasel river book corner" Monday, December 14, 2015
 It is Monday (holiday) on January 11 from "panel exhibition ... commemorative from this yondemiyoano masterpiece book for ... Japan animation 40 years" Monday, January 4, 2016
 "Climate to change. Environment that changes." It is ko eyo, warming!" It is Monday, January 25 from Wednesday, January 13, 2016
 "Let's receive cancer screening"; is Sunday, February 14 from Tuesday, January 26, 2016
 "We will read! It is Thursday, March 10 from book Wednesday, February 24, 2016 of new child
 "I do not forget from the Great East Japan Earthquake for five years. Memory of 3.11…It is Sunday, March 21 from "Friday, March 11, 2016
 From Sakae library possession air photo exhibition "now old days of Sakae Ward which we saw from the sky" Wednesday, March 23, 2016
---
---
 "Cherry tree to look at to The air is full of spring picture postcard" from Thursday, April 10, 2014 to Sunday, April 20
 "It is library fireworks display" from Wednesday, July 23, 2014 to Sunday, August 17
 "Support go okokorotoinochi suicide prevention exhibition" from Tuesday, September 2, 2014 to Tuesday, September 30
 "Town development "safe community" exhibition of security, relief" from Wednesday, October 1, 2014 to Friday, October 31
 With "the remains of remains - Katsuradaikita of our town exhumation remains exhibition" from Saturday, November 1, 2014 to Sunday, November 30
 "18 wards of de YES prevention of warming month tapestry display" from Friday, December 5, 2014 to Sunday, December 28
 "Children's story we know unit exhibition" from Saturday, January 31, 2015 to Sunday, February 15
Inquiry to this page
Board of Education Secretariat Sakae library
Telephone: 045-891-2801
Telephone: 045-891-2801
Fax: 045-891-2803
E-Mail address ky-libkocho16@city.yokohama.jp