Welfare center for the old (spring Kotobuki-so)
Last update date February 15, 2019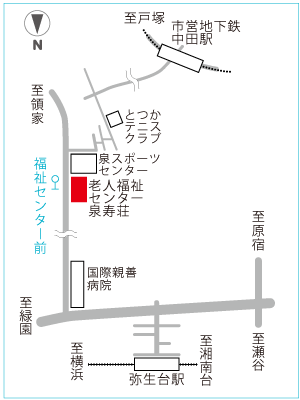 Map
People living in the city 60 years or older are available. We provide opportunity of health promotion to run life with health brightly, improvement of culture and hobby and entertainment.
3-11, Nishigaoka, Izumi-ku
TEL 045-813-0861
FAX 045-813-0862
From Yayoidai Station
About 20 minutes on foot
Door -39 system Totsuka Station East Exit going
Going to door -79 system Tozuka bus center for east -23 system Higashi-Totsuka Station
From Totsuka Station
For door -39 system Yayoidai Station (Totsuka Station East Exit)
For door -79 system Yayoidai Station (Tozuka bus center)
From Higashi-Totsuka Station
Going to east -23 system Yayoidai Station
shinnachu bus "in front of welfare center" getting off is all immediate
From 9:00 a.m. to 5:00 p.m.
Third Sunday, New Year holidays (from December 28 to January 4)
People living in the city 60 years or older and the attendant
Parents, grandparents of person living in the city 60 years or older
You show thing which you can confirm of age at reception desk, and please receive grant of identification of use.
When you use in group or group, you perform group registration beforehand, and please apply after having got approval. For more details, please ask facility.
Contents of the use facility
1F ... health counselor's office, meeting room, workshop, rehabilitation room, gateball field
2F ... Japanese-style room (tea-ceremony room combined use), recreation room, purpose of life classroom, large hall, book corner
Please see page about designated manager of use of inhabitant of a ward facility (district centers).