Emblem mascot character
We utilize emblem and mascot character and of course we tell about election day of election in various scenes including school festival and inhabitant of a ward Festival of school and convey importance of vote at the time of election.
Last update date December 24, 2019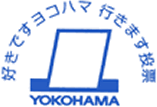 Emblem
What will happen when we image election? What kind of copy will it touch heart of qualified voter with if we call?
From such thought, Yokohama-shi board of elections raised emblem and copies in 1984 (Showa 59).
We posted poster on bus, the inside of car of subway, and product distributed "public information Yokohama" election feature to all households. As a result, there was application of 1,541 points, 1,109 people on 512 points, 364 people, copy in emblem.
Emblem chose six points of excellent products after the first examination by expert and decided to decide the best work by civic vote. We installed ballot box in station, department store, supermarket, bank, post office in the city and called for vote. And it gets civic participation 70,000 votes of total votes or more, and it is this mark that was chosen.

Election time logo mark that meant local love
We carry out election enlightenment activity to utilize in logo mark that did flower "rose" of city in motif from result of public awareness survey by Yokohama citizen to be strong in attachment to area, and to appeal to "regionalism" for from 2017.

It is ikotto for election! "ikotto"
We produced mascot for enlightenment to make election familiar in 1988 (Showa 63) and raised nicknames appropriate for this from citizen widely. About 2,000 points of plans were sent for open call for participants, and "ikotto" was chosen as top flight.
"ikotto" is lighthouse. It is election and democratic mascot lighting up tomorrow of port town, Yokohama brightly.
Announcement was Naka Ward member of city assembly by-election of January, 1989 (Heisei 1). "ikotto" appears before citizen by plastic large doll including sewing, illustration to printed matter afterward.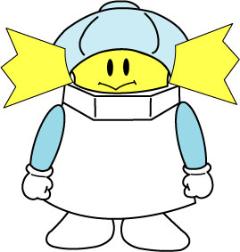 ikotto Jr
ikotto Jr. (the youth) who does the best as mascot of Yokohama-shi board of elections as well as ikotto. We are playing an active part in enlightenment articles such as panel and stuffed toy and tissue in each station of Yokohama municipal subway.
Inquiry to this page
Election Administration Commission Secretariat Election Department election section
Telephone: 045-671-3335
Telephone: 045-671-3335
Fax: 045-681-6479
E-Mail address [email protected]