Yokohama DV Consultation Support Center
Final update November 10, 2020
Violence from spouses is a serious violation of human rights, including criminal activity.
Regardless of the gender or relationship of the victim / assailant, for any reason, it is by no means acceptable.
Yokohama City is working on measures to prevent violence from spouses, protect victims, and support independence.
The homepage you see is temporarily stored as history. If you click on the "History" of your browser, you may know what homepage you browsed to your family or people who share the same computer. We recommend that you delete your history after browsing to maintain privacy.
https://soudanplus.jp/(external site)
This is a consultation desk established by the government (Cabinet Office).
Telephone and mail 24 hours a day
Chat Consultation 12: 00-22: 00
※Available in 10 languages
Yokohama DV Consultation Support Center
Please call 110 in case of emergency.
Telephone: 045-671-4275
Monday to Friday (excluding holidays) 9:30 to 16:30
Telephone: 045-865-2040
Monday to Friday (excluding the fourth Thursday) 9:30 to 20:00, Saturday, Sunday and public holidays 9:30 to 16:00
※We accept regardless of gender. (Closed during the year-end and New Year holidays.)
Yokohama DV Consultation Support Center [Telephone Consultation Service]
Yokohama-shi DV consultation support center guide handbill
Character design version (PDF: 869KB)
Easy-to-understand expression version (PDF: 2,336KB)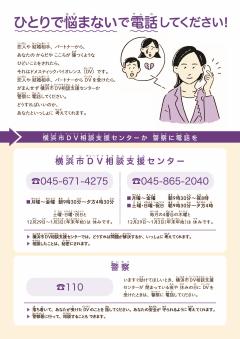 Easy Japanese version (PDF: 328KB)
Kanagawa DV Consultation LINE
Kanagawa DV consultation LINE (outside site)
Consultations from women suffering from DV and dating DV are available on the communication application "LINE".
Tuesdays and Thursdays (excluding holidays and New Year's holidays) 16:00 to 21:00
For women in the prefecture, we accept free consultation about DV and dating DV from spouses and lovers.
You can consult about various types of violence, such as hitting / kicking, assaulting, not giving living expenses, and monitoring friendship.
Even small troubles are okay.
Consultation is possible anonymously.
I will keep your secret.

※We do not accept consultations at the following contact email addresses. In case of emergency, please call 110.
Adobe Acrobat Reader DC (formerly Adobe Reader) is required to open PDF files.
If you do not have it, you can download it free of charge from Adobe.


To download Adobe Acrobat Reader DC
Inquiries to this page
Policy Bureau Gender Equality Promotion Section
Telephone: 045-6711-2017
Telephone: 045-6711-2017
Fax: 045-663-3431
Email address: [email protected]