Business hours such as ward office, service counter in the city hall
Last update date March 26, 2020
Window
The open agency date and time

From Monday to Friday
From 8:45 a.m. to 5:00 p.m.
But the front entrance automatic door open door time is 8:30 a.m.

Second fourth Saturday
From 9:00 a.m. to the midday
But you deal only with Family Registry Division, Insurance and Pension Division, Children and Families Support Division duties, and please confirm page of the handling duties.
Rest agency day

Soil (except the second fourth morning of Saturday), Sunday Sundays and holidays, holiday, New Year holidays (from December 29 to January 3)

Others

But please be careful as next engine, service in ward office varies in business hours.

Kids land (temporary nursery)From 8:50 a.m. to 4:00 p.m. (as for the lunch break from the midday to 1:00 p.m.) of month, Wednesday and Thursday
Bank from 9:00 a.m. to 4:00 p.m. for the tax delivery

The window congestion situation

・Change (Family Registry Division, Registration Section, Insurance and Pension Division, National Health Insurance Section) of waiting time of this week (the outside site)
The location: It is before 2-20, Toyookacho fugue 1 (Seiyu)
Telephone: 045-586-0975
We get various certificates including "copying of resident certificate" "Seal Registration Certificate" out of Hours of ward office including Saturday and Sunday and morning, evening. We are absent for celebration, holiday and New Year holidays.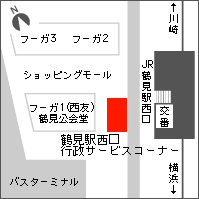 ---
Certificate
The handling certificate
Weekdays (from Monday to Friday)
Saturday and Sunday
7:30-8:45
8:45-17:15
17:15-19:00
9:00-17:00
Copying of resident certificate
We hand on the spot
Resident certificate items mentioned certificate
Seal Registration Certificate
All the family register matter certificate (certified copy)
Family register individual matter certificate (abridgment)
Copying of tag of family register
Identification card
Municipal tax, prefectural tax (non-) taxation certificate

After 11:00 on that day
Handing over

We hand on the spot

Next day after 11:00 handing over
Day is day in the next month on note) Friday, Saturday and Sunday
We hand after 11:00 on following open day

The tax payment certificate of city tax
Fixed assets tax roll entry certificate
(for the land, house existing year)
○All the family register (individual) matter proof (certificate of family register, abridgment), copying, identification card of tag of family register limit with permanent domicile, other certificates to thing of with Address in Yokohama-shi in Yokohama-shi.
○When there is not or we handle partly, depending on contents of certificate, may not hand the Hours outside of ward office on the spot.
○As we perform identity verification of applicant when certificate is requested, the presentation of identity verification documents (Basic Resident Register cards with driver's license, passport, my number card (individual number card) or photograph) with photograph is necessary. In addition, in cases that identity verification documents is not with photograph including health insurance card, we may do the presentation of yet another identity verification documents and question.
In addition, submission of proxy is necessary when proxy/agent is requested. (except Seal Registration Certificate)
○When Seal Registration Certificate is requested, take private seal registration document (card) by all means.
○About "copying of global grant resident certificate" utilizing the Network System for Basic Resident Registers , we do not handle.
○When the tax payment certificate in the name of corporation is requested, seal of representative mark is necessary for application.
○Fixed assets tax roll entry certificate tax payer (include relative of same household.) Heir (documents which can grasp the inheritance relations including certificate of family register are necessary.) And we handle only for request of tax payment administrator. (when proxy/agent is requested, it becomes issuance at ward office. In addition, we deal with certificate for assets in the name of corporation in application if there are any representative marks and can do it.)
In addition, taxation statement attached to the tax payment notification have been registered, and please request after checking the location lot number of assets by proof. (the tax payment notification hopes that you have as much as possible.)
○We handle property tax tax exemption certificate in service counter in the city hall and cannot do it. Please request at ward office.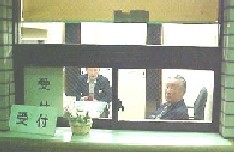 We always open at ward office shut agency time
We accept reports such as birth, the death, the marriage in "night reception counter". We check in Family Registry Division, and case and confirmation of contents to include lack of documents will inform submitted report book when needed later. Without serious defects, day when we submitted is the acceptance day.
There is "night reception counter" in the ward office post office side side gate (the Tsurumi fire department side).
※In commemoration of the marriage, we can photograph at "wakkun shooting spot".
Photographable time: From 6:00 a.m. to 10:00 p.m. (every day)
---
In Yokohama-shi, we carry out open agency for improvement of civic service every month on holiday on second fourth Saturday. Please use in cases not to be available weekdays.
●From Hours 9:00 a.m. to noon
●The handling duties
The second floor
Family Registry Division
[inquiry]
Telephone: 045-510-1702
FAX: 045-510-1893
※We handle thing that confirmation is necessary for other municipalities and cannot do it
The first window
(Registration Section)
Transference, transference, Seal Registration of resident certificate, my number card, other associated duties
※Nationwide resident-registry network-related duties such as resident registry card issuance handle, and they are not possible
The fourth window
(Family Registry Section)
Reception desk, examination of family register notice and proof, other associated duties
Insurance and Pension Division
[inquiry]
Telephone: 045-510-1807
FAX: 045-510-1898
The eighth window
(National Pension Plan Section)
We conduct usual affairs
※But there are duties that cannot conclude on the spot including thing that confirmation is necessary for other municipalities or pension office
6.7 turn window
(National Health Insurance Section)
The third floor
Children and Families Support Division
[inquiry]
Telephone: 045-510-1797
FAX: 045-510-1897
The fourth window
(child home
Support charge)
Grant of mother and child health handbook, application, reception desk of Child Allowance
Inquiry to this page
Tsurumi Ward General Affairs Department General Affairs Division
Telephone: 045-510-1653
Telephone: 045-510-1653
Fax: 045-510-1889
E-Mail address [email protected]