Report system before industrial accumulation area large scale land transaction
Large-scale land transaction in industrial accumulation area needs prior report.
Last update date June 22, 2020
System summary leaflet (PDF: 415KB)
Summary (April, 2018) about prior procedure to affect business of land located in industrial accumulation area in Yokohama-shi (PDF: 2,016KB)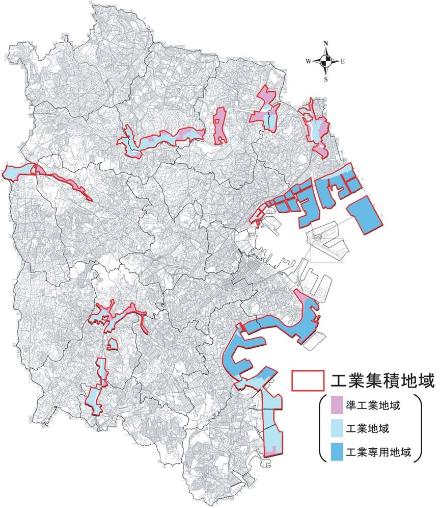 We will tell about way of thinking of city for the use of the land and applied system beforehand before business of large-scale land by moves of factory is performed to plan instruction and use of industrial base in industrial accumulation area of appropriate land in Yokohama-shi.
In this way, we plan facilitation of use of land procedure and aim at realization of use of industrial accumulation local appropriate land.
※We can search industrial accumulation area in city planning map information "i- muppie".
https://wwwm.city.yokohama.lg.jp/yokohama/Portal (the outside site)

I would like reporting such as the industrial system unused grounds!
We perform matching with article put location place to in the city by companies you are looking for and owners of article information such as industry system unused ground or space factory to plan continuation of use of promotion of firm location in the industrial system unused grounds in the city and industry system land in Yokohama-shi.
Regardless of scale of site, reporting of article from owners such as industrial system unused ground or space factory, please even if we put in pro-industry accumulation area.
https://translate-en.city.yokohama.lg.jp/business/keizai/yuchi/support/tochi/tochi-matching.html

Contact information: Economic Affairs Bureau company invitation, location section TEL045-671-3485

Business engagements of 5,000 square meters or more land in industrial accumulation area
※With business engagements
Proprietary rights
Superficies
Right of lease
Or we let you make a contract to do move, setting of right for the purpose of the acquisition of these rights (we include reservation contract)
Until six months before business engagements of land
When we perform large-scale land transactions 5,000 square meters or more, seller tells Yokohama-shi within six months before contract.
Yokohama-shi in response to report performs advice about use of land based on use of land policy of city and the neighboring use situation.
Documents submission method
For prevention of new coronavirus infection spread, I would like cooperation of submission of documents by "mail" for the time being. At first, I would like consultation with telephone beforehand.
〒231-0005 6-50-10, Honcho, Naka-ku, Yokohama-shi the 24th floor of the city hall
City of Yokohama, Housing and Architecture Bureau Planning Division
Telephone: 045-671-3655
FAX: 045-664-7707
※Please contact beforehand on the next agency.
(style 1-1) land transaction registration form (word: 10KB)
(style 1-2) land transaction change registration form (word: 8KB)
The November 1, 2007 enforcement
The April 1, 2018 revised enforcement
Adobe Acrobat Reader DC (old Adobe Reader) is necessary to open file of Portable Document Format.
Person who does not have can download free of charge from Adobe company.


To downloading of Adobe Acrobat Reader DC
Inquiry to this page
Housing and Architecture Bureau Planning Planning Division
Telephone: 045-671-3655
Telephone: 045-671-3655
Fax: 045-664-7707
E-Mail address [email protected]