Takenomaru district center
Last update date May 28, 2020
The opening situation of facility
We reopen from Monday, June 1. In addition, please confirm the details over page (the following outside site) of facility and telephone as there are some limits about the use.
Page (the outside site) of Takenomaru district center(we link to homepage of facility)
The location: 133-3, Takenomaru, Naka-ku
Telephone: 045-651-5575
FAX: 045-651-5576
Opening time: From weekdays 9:00 a.m. to 9:00 p.m. from/Sundays and holidays 9:00 a.m. to 5:00 p.m.
Closed days: Third Thursday (in the case of holiday the next day)/New Year holidays (from December 28 to January 4)
Facility contents: Among physical education room, lobby, book corner, playroom, group room, entertainment corner, caboose (24), Japanese-style rooms (20 tatami) meeting room (48), small meeting room (18), crafts room (24)
※It is lobby, book corner, group room (learning), entertainment corner (Go, shogi, statement), playroom (infant and protector), physical education room of personal use time (badminton, table tennis) that are available in individuals.
※The use of each room becomes use of group.
Usage: It is available in individuals anytime. Please accept. When we use room in group or group, we accept reservation for two months of use day.
Access JR Negishi Line "Yamate Station" drop off walk ten minutes/municipal bus "Mugitacho" drop off walk ten minutes/municipal bus "4, Yamamoto-cho" drop off walk 12 minutes
About designation of designated manager,About recruitment of third-designated managers (2015 open call for participants conduct facility)We announce in this.
The management administration situation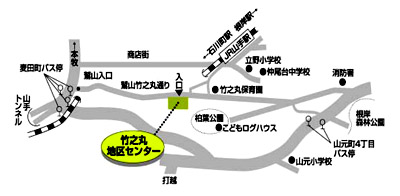 Adobe Acrobat Reader DC (old Adobe Reader) is necessary to open file of Portable Document Format.
Person who does not have can download free of charge from Adobe company.


To downloading of Adobe Acrobat Reader DC
Inquiry to this page
Naka Ward General Affairs Department Regional Promotion Division
Telephone: 045-224-8135
Telephone: 045-224-8135
Fax: 045-224-8215
E-Mail address [email protected]