Introduction of inhabitant of a ward activity support center
Final update date April 7, 2021

The Kohoku Ward Citizens' Activities Support Center helps voluntary inhabitants' activities, consults about learning for those who want to do something or want to start, introduces human resources such as town teachers, provides and transmits information, and conducts activities. We support social activities, local activities, and lifelong learning activities through provision of places, lending of equipment necessary for activities and learning, and skill improvement training.
[Important] Please cooperate with measures to prevent the spread of new coronavirus infection.
Please note that for the time being, we will take the following infection prevention measures to prevent the spread of the new coronavirus infection. We apologize for any inconvenience this may cause, but we appreciate your understanding and cooperation for your health and safety.
Places that touch the hands of users, such as conference rooms, exchange corners, and work corners, are regularly disinfected with alcohol.
We will set up a vinyl curtain at the reception.
Alcohol disinfection is installed at the entrance.
Even in air conditioning, the windows are opened regularly for ventilation and the doors are open.
Requests cooperation from users
For consultations and facility use (meeting rooms, exchange corners, work corners) that require the next agency, please contact us in advance by telephone or e-mail, and make a reservation for the date and time.
Please use the conference room with a capacity of 12 or less and the exchange corner with a capacity of 6 or less. ※Registration for use of facilities
Please use the work corner for up to 2 people per group and about 1 hour. ※Registration for use of facilities
When using, please cooperate with wearing masks, hand disinfection, temperature measurement, and hand washing.
If you are not feeling well or have cold symptoms such as fever, please refrain from visiting the Agency.
Please keep a sufficient distance between users and use and activities. Please give consideration to cough etiquette.
Please note that personal information obtained at the time of booking or visiting the Agency will be used for follow-up surveys in the event of a virus infection.
The representatives of the organizations that use the facilities will grasp the names and contact information of all users (including non-group members) participating in the activities, and "About infection prevention measures" and "Cooperation with users" Please inform everyone about "Request".
Please refrain from eating before and after using the facility because the risk of infection increases.
Please note that depending on the future situation, there may be changes in usage and some or all of the facilities may be suspended.
We support your "I want to" in various ways!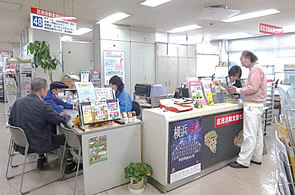 Reception and consultation corner
"I want to do something, I want to start," "I want to talk about learning and activities."
We provide consultation on learning and social activities in various fields. In addition, we provide, introduce, and coordinate information necessary for activities.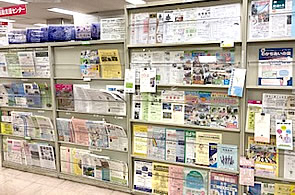 Information Corner
"I want to learn something," "I want to touch art," "I want to expand my hobbies."
There are many flyers for lifelong learning, social activities, courses and events. Please feel free to look around.
•Lectures and event information on public facilities
•Information on facilities and locations in Kohoku Ward
•Viewing materials related to Kohoku Ward's
•Group, group information in ward
•Lecturer, volunteer, town teacher information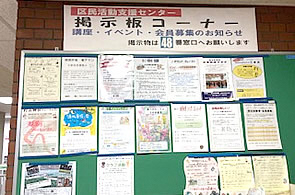 bulletin board corner
"I want to announce events and courses," "I want to increase the number of friends."
Information such as group introductions, events and recruitment of members can be posted.
※About contents of handbill, news, we assume responsibility of issuer and cannot take responsibility in inhabitant of a ward activity support center.

Meeting room and exchange corner
"I want to get together and talk," "I want to do activities that can be done on the desk."
It can be used for group meetings, meetings and materials making.
[Usage time]
(1)From 9:00 to 12:00
(2)13:00-15:00
(3)15:00-17:00
[How to apply] Reservations will be accepted on a first-come, first-served basis from 9:00 on the same day three months before the desired date of use (Saturday, Sunday, the next day if it is a holiday). You can reserve up to two frames per group per month.
※If there is a vacancy, you can make an additional reservation two weeks before the desired date of use.
※Use requires registration of facility use.

Information Exchange Box
"I want to keep the necessary materials for the activity," "I want to use it to communicate with the members."
It can be used for storing materials, office supplies and goods necessary for activities, and for exchanging information between registered organizations. ※Use requires registration of facility use.

Work Corner
"I want to print materials and flyers," "I want to fold paper,"
Lisograph (printing machine) Paid (50 yen per plate, 10 yen for every 20 prints), paper folding machine (A4-B5), cutting machine can be used. Please prepare your own printing paper. ※Use requires registration of facility use.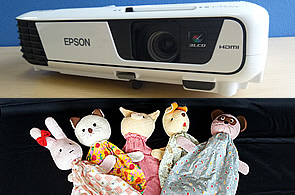 Rental of equipment
"I want to borrow equipment and cloth toys necessary for my activities," "I want to play a picture-story show."
We rent out items necessary for activities and learning, such as projectors, screens, cloth toys, and old-fashioned picture-story shows in Kohoku Ward For more information, please see the rental page for equipment, cloth toys and picture-story shows. ※Use requires user registration of rental equipment.
Publishing an information magazine called "Rakuyugaku" that links Kohoku Ward"
We publish special feature of group working in ward, "my town port north" spot, recruitment of members of group and information such as lecture, event. Issued on even-numbered month 1st.
It is free to post at the "Amusement Spot". Please send the manuscript by the 28th of the month before the issue month.
"Rakuyugaku" Is available at stations and public facilities (district centers, community houses, care plazas, etc.) in Kohoku Ward city.
Specifically, please see information magazine "Rakuyugaku" page connecting "activity" of Kohoku Ward's "Rakuyugaku"
Introduction of Kohoku Ward "Town Teachers" and Issuance of Guides
Kohoku Ward "teacher of town" is system that inhabitants of a ward teach and learn each other. I want to make use of various special skills, specialized knowledge and experience cultivated in work and hobbies through volunteer activities! Have a motivated person register as a "town teacher" and "Do you want to learn or teach something?" Introduces in response to requests from groups, circles, organizations, facilities, schools, etc.
If you are looking for a lecturer, instructor, or presenter, please use "Town Teacher". In inhabitant of a ward activity support center, we coordinate (person who wants to learn) group, circle, group, facility, school and (person who wants to teach) Kohoku Ward". Specifically, please see Kohoku Ward "Teacher of town" page
Introduction of Groups and Guides of Kohoku Ward Guides Issue
We introduce groups and organizations that are engaged in social activities in various fields, mainly as public facilities activity places in Kohoku Ward Prefecture. (Excluding political, religious and commercial organizations)
Please use it as a guide for those who wish to participate in local groups and organizations, and for mutual exchange and information exchange between groups. Group and group registrations are also available at any time. For more information, please contact the Residents' Activities Support Center. Specifically, please see Kohoku Ward Group / Group Guide page for more information.
Inhabitant of a ward activity support center summary
Opening days and hours
 

| | |
| --- | --- |
| Location | Kohoku Ward City Hall 4F 48th window 〒22-0032 26-1 Ozudo-cho, Kita-ku |
| Opening hours | Monday to Friday 8: 45-17: 00 (excluding Saturdays, Sundays, holidays, and New Year's holidays) |
| Inquiries | Telephone: 045-540-2246 Fax: 045-540-2246 E-mail: [email protected] |
Link of social movement, lifelong learning information
Inquiries to this page
Kohoku Ward Residents' Activities Support Center
Telephone: 045-540-2246
Telephone: 045-540-2246
Fax: 045-540-2246
Email address: [email protected]