Naka Ward Office government building guidance
Last update date June 17, 2020
About main building repair work
※During until December 25, 2020, we perform repair work in main building. I apologize to all of the next agencies for the inconvenience by change or the noise of doorway, but would appreciate your understanding.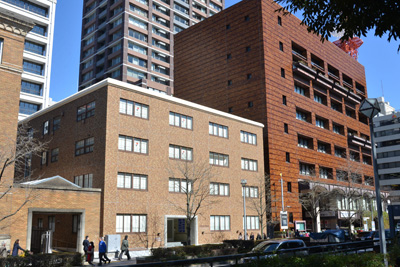 〒231-0021 35, Nihonodori, Naka-ku, Yokohama-shi
Telephone: 045-224-8181 (general information)
Fax: 045-224-8109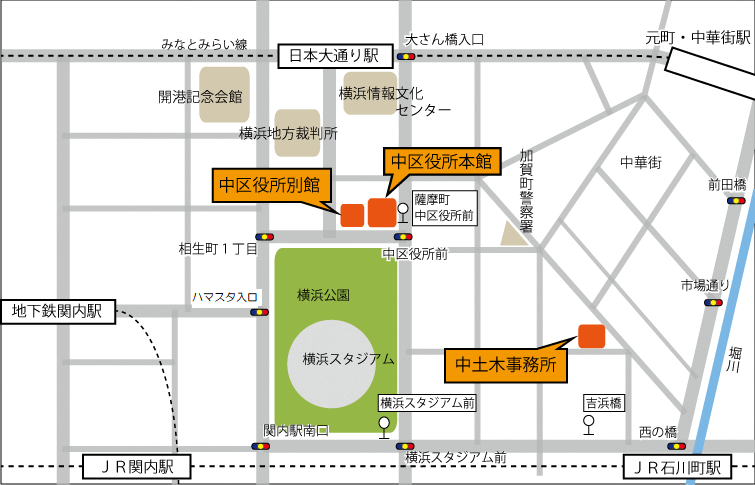 From JR Kannai Station (the south exit) a 7-minute walk
From municipal subway Kannai Station (Exit 1) a 7-minute walk
From Minato Mirai Line Nihon-odori Station (Exit 3) a 4-minute walk
About parking lot (bicycle parking lots)
※Bicycle parking lots on the sidewalk in front of the ward office is closed down.
Until Monday through Friday (from Saturday, Sunday, national holiday, holiday making up for the overlap of holidays on Sunday, national holiday, December 29 to January 3 shut agency)
Open agency is doing second fourth Saturday at window.
About Saturday open agency
From 8:45 to 17:00 (on Saturday open agency day from 9:00 to 12:00)
Duties department in main building
General Affairs Division, Ward Administration Promotion Division, Regional Promotion Division, Family Registry Division, Tax Division, Office of Accounting, Elderly and Disabled Support Division, Children and Families Support Division, life support section, Insurance and Pension Division
To main building floor map
About window congestion expectation (Family Registry Division, Insurance and Pension Division)
Duties department in annex
Health and Welfare Division, Health Sanitation Division, medical examination, Vaccinations, naka inhabitant of a ward activity center, naka international exchange lounge
(about naka inhabitant of a ward activity center, naka international exchange lounge, open agency day, Hours is different.)
To naka inhabitant of a ward activity center, page of access, opening time of naka international exchange lounge
Annex floor map
Middle engineering works office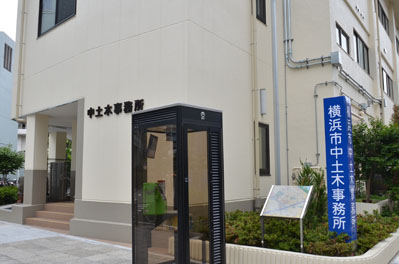 〒231-0023 246, Yamashitacho, Naka-ku, Yokohama-shi
Telephone: 045-641-7681
Fax: 045-664-6196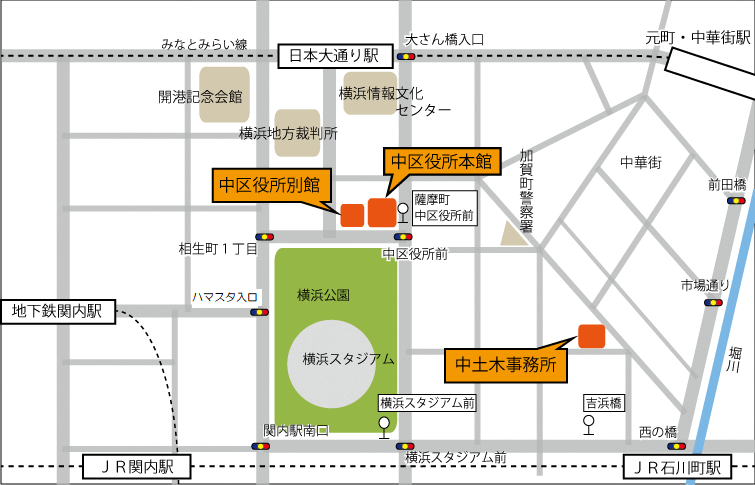 From JR Ishikawacho Station (the north exit) a 5-minute walk
Than bus stop "Yoshihama-bashi" a 3-minute walk
There is free parking lot
Until Monday through Friday (from Saturday, Sunday, national holiday, holiday making up for the overlap of holidays on Sunday, national holiday, December 29 to January 3 shut agency)
About duties of middle engineering works office
We act so that we perform road (city street), the sewer in Naka Ward, the basics of town development including park and maintenance of public facilities where it is in middle engineering works office, and citizen's can spend civic life comfortable in peace.
In addition, in the case of flood and earthquake disaster, we carry out activity to urgently protect citizen's life, property including security of transfer line in cooperation with ward offices.
To middle engineering works notice page of office
To download page of various applications
Inquiry to this page
Naka Ward General Affairs Department General Affairs Division
Telephone: 045-224-8112
Telephone: 045-224-8112
Fax: 045-224-8109
E-Mail address [email protected]