Appearance request (rental of costume) of tortoise Taro
Last update date May 30, 2019
About rental of costume of tortoise Taro
At Kanagawa Ward government office, we rent costume of tortoise Taro free.
After checking the use of Kanagawa Ward mascot character "tortoise Taro" costume point and contents to list below,
Please submit use application by window or mail, E-mail, FAX to the following application.
At the same time, please send documents which summary of event understands.
※As rental of costume becomes first-come-first-served basis, please inquire about the space situation of costume beforehand.
(contact information: 045-411-7021)
If rental is possible, we issue use approval notification after the confirmation about the right or wrong of use.

Tortoise Taro of balloon type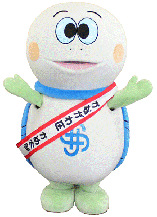 Tortoise Taro of urethane type
---
(1) Politics, religion, business for the purpose of the spread of specific thought
(2) Profit only for specific company including sales promotion event or store business to do such as purposes
(3) Business against laws and ordinances and public order and morals
(4) Business that it is admitted that we spoil image of Kanagawa Ward or tortoise Taro
(5) The personal use such as events to perform for member of wedding ceremony and specific group
(6) Others, thing thought to be inappropriateness
(1) It is rental only for costume. About person entering costume, please cope in application group.
In addition, person to assist by all means, please arrive more than two people because internal view is bad.
(2) In dirty place including rainy day and mud cannot use.
(3) The costume inside becomes very hot. One continues, and, in consideration of physical condition side, please do not do wearing more than 20 minutes.
(4) Car (thing of type that rear seat levels out if we can do it) is necessary for transportation of costume.
(5) On return, I would like return after checking keeping all the things which we rented in check list.
Come to the fifth floor of the Kanagawa Ward government office Main Building 503 window.
It becomes weekday 8:45-17:00 (on New Year holidays, Saturday open agency day, impossible) for reception hours.
The use of Kanagawa Ward mascot character "tortoise Taro" costume point (PDF: 132KB)
Use of costume manual (PDF: 345KB)
Use application (precaution at the time of entry) (Excel: 29KB)
Kanagawa Ward government office Ward Administration Promotion Division Public Relations Section (the fifth floor of the main building 503 window)
〒221-0824 3-8, Hirodaiotamachi, Kanagawa-ku, Yokohama-shi
TEL: 045-411-7021
FAX: 045-314-8890
E-mail: kg-kusei@city.yokohama.jp
Adobe Acrobat Reader DC (old Adobe Reader) is necessary to open file of Portable Document Format.
We can download one that you do not have gratis from Adobe company.


To downloading of Adobe Acrobat Reader DC