About use of illustration of tortoise Taro
Last update date May 30, 2019
At Kanagawa Ward government office, we accept use of illustration of tortoise Taro.
"The acting director point about use of Kanagawa Ward emblem and mascot character"
And, after checking the following instructions, please submit use application by window or mail, E-mail, FAX to the following application.
At the same time, please send documents which summary of event understands.
If the use is possible, we issue use approval notification after the confirmation about the right or wrong of use.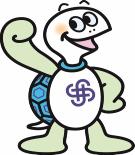 Tortoise Taro of basic pose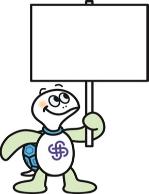 Tortoise Taro who has signboard


Tortoise Taro who pumps his fist into the air
---
Illustration giving here is just one case.
Please see collection of Kanagawa Ward mascot character tortoise Taro poses (PDF: 552KB) about available illustration.
(1) Politics, religion, business for the purpose of the spread of specific thought
(2) Profit only for specific company including sales promotion event or store business to do such as purposes
(3) Business against laws and ordinances and public order and morals
(4) Business that it is admitted that we spoil image of Kanagawa Ward or tortoise Taro
(5) The personal use such as events to perform for member of wedding ceremony and specific group
(6) Others, thing thought to be inappropriateness
(1) We cannot change aspect ratio of illustration.
(2) Processing to repeat in the background to keep thing for illustration is possible, but please be careful not to be piled up on the illustration.
(3) We repeat letters on the illustration and are stinking without cutting a part of the image.
(4) Because image may collapse, please do not use balloon.
(5) Like lower illustration, please do notation of "Kanagawa Ward mascot character tortoise Taro" in the lower illustration.
It is omissible if difficult in space.
(6)In addition, please contact the following reference when you hesitate about judgment.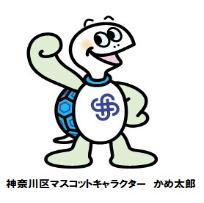 The acting director point (PDF: 126KB) about use of Kanagawa Ward emblem and mascot character
Use application (precaution at the time of entry) (word: 18KB)
Kanagawa Ward government office Ward Administration Promotion Division Public Relations Section (the fifth floor of the main building 503 window)
〒221-0824 3-8, Hirodaiotamachi, Kanagawa-ku, Yokohama-shi
TEL: 045-411-7021
FAX: 045-314-8890
E-mail: kg-kusei@city.yokohama.jp
Adobe Acrobat Reader DC (old Adobe Reader) is necessary to open file of Portable Document Format.
We can download one that you do not have gratis from Adobe company.


To downloading of Adobe Acrobat Reader DC