Main menu of Yokohama municipal bond
Last update date June 4, 2020
IR (investor relations) is activity providing information necessary for judgment of investment including the financing situation for investors.
In Yokohama-shi, issuance condition or financial status of municipal bond explain information about the handling financial institutions by IR briefing session and guide with homepage, flyer, poster, booklet.
For more details, please see page about IR of Yokohama-shi.
Introduction of mascot of Yokohama municipal bond
Do you know pink psi to come up in leaflet and booklet, homepage that Yokohama-shi Finance Bureau makes?
It is mascot of Yokohama municipal bond, Hama rhinoceros.
Birthday of Hama rhinoceros is February 26, 2003.
We are playing an active part to have all of you know Yokohama municipal bond.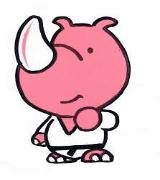 Mascot "Hama rhinoceros" of Yokohama municipal bond
Inquiry to this page
Finance Bureau Finance Department resources section
Telephone: 045-671-2240
Telephone: 045-671-2240
Fax: 045-664-7185
E-Mail address [email protected]