It is recycling soil mixing method in kitchen garbage easily
Last update date November 12, 2018
With the soil mixing method
We mix kitchen garbage and soil and break down kitchen garbage by power of microorganism in soil and are method to turn soil into thing which nutrition is rich in.
We do not take place.
If there is space for four planters even if there is not garden, there is.
Anyone can do it by simple method.
Special work and tool, medicine are not necessary.
We can use made soil for gardening.
We are not in trouble in use of made soil.
As made soil is usable in kitchen garbage and soil to mix again, soil increases and may not be in trouble.
Eco-friendly.
We can recycle easily at home without taking out kitchen garbage as garbage.
Kitchen garbage
SAT
Planter
As the soil mixing method breaks down kitchen garbage by power of microorganism, it is important to fix environment that is easy to act of microorganism. Specifically, we push forward work while being careful about adjustment of fluid volume, supply of oxygen.
1.We mix chopped kitchen garbage and soil small.
Kitchen garbage is small, and the resolution is early. (from 2 3cm indication)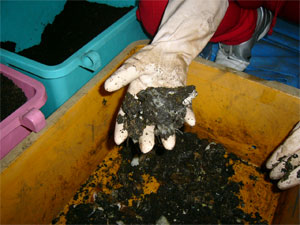 Photograph: After mixing kitchen garbage and soil
In moisture as we grasp and feel the moisture, and soil steamed bun is done
Point: Adjustment of fluid volume
2.We put thing which we mixed kitchen garbage and soil with to one side of planter.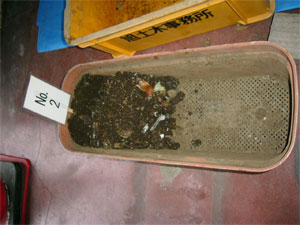 3.We cover with soil from the top so that kitchen garbage hides.
By hanging soil well not to see kitchen garbage, shut out insect and smell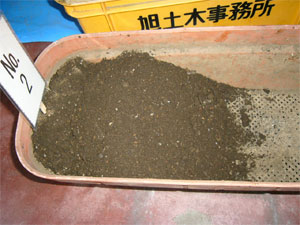 4.If planter becomes full, we stir the whole.
Afterwards, sometimes stir (once a week indication); stirred frequently, and the resolution is earlier.
Point: Supply of oxygen
When it dries too much when we stirred, we add water and when it is juicy, we put dry soil and mix.
Point: Adjustment of fluid volume
5.We continue in other planters in the same way.
When four planters become full, the first planter is completed.
Q1: Is there kitchen garbage which is not suitable for the soil mixing method?
A1: A large quantity of abolished cooking oil (slightly possible), peel of shellfish pattern, an onion
Q2: What kind of soil should we begin the beginning with?
A2: Anything including soil which we did not need after having planted flower is enough.
Q3: What kind of place do you put planter in?
A3: As it is important to maintain 50% of moisture, direct rays of the sun does not hit, and please put in place (under the eaveses) where it does not rain.
Q4: The inside of disintegrating planter is soaked.
A4: You put dry soil, or planter nominates, and please return to expectation, moisture 50% in Nikko.
Q5: Both soil and kitchen garbage dry, and form remains forever.
A5: Moisture is short. You pour water and stir, and please get back to 50% of moisture.
Q6: We are anxious about fly and maggot, smell.
A6: We do not need worry if we cover with soil well to hide kitchen garbage.
Q7: How long is it completed in?
A7: It is from three weeks to four weeks in winter in the summer for ten days from one week.
Q8: Whether it is not awkward that soil increases.
A8: As we bring up plant, and we circulate as the first soil to mix again, and completed soil is usable, soil increases and may not be in trouble.
We ask Specialized Agencies and analyze thing which puts kitchen garbage into commercially available black soil for 30 days, and was completed. As a result, completed soil became clear with good soil to raise flower and vegetables. For more details, please refer to Regional Promotion Division Resources Reuse Promotion. (December, 2009 conduct)
We perform class in Regional Promotion Division Resources Reuse Promotion. Please feel free to contact.
Inquiry to this page
Asahi Ward General Affairs Department Regional Promotion Division
Telephone: 045-954-6095
Telephone: 045-954-6095
Fax: 045-955-3341
E-Mail address [email protected]